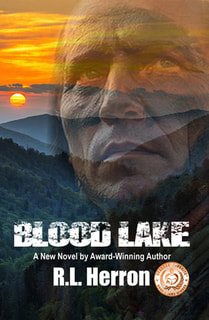 Blood Lake
by R.L. Herron

How real are curses?

​When gold was discovered in Cherokee territory, the U.S. Army forcibly removed 16,000 men, women and children, in the dead of winter, from land in the Smoky Mountains they had lived on since the last Ice Age. At least 4,000 of them died.

It has gone down in history as The Trail of Tears.

John Burnett is the latest member of his family to confront a Cherokee curse laid upon his bloodline during that event in 1838, as he and other men of his generation succumb to terrors both mortal and supernatural.



---
---
2016 READERS' FAVORITE BRONZE MEDAL
"... an action packed narration ..."
~ Carla Trueheart for Readers' Favorite

TOPBOOKREVIEWERS
"... ominous thriller ... an outstanding read ..."
~ June 2016

BOOKLIFE PRIZE IN FICTION
"... powerful characters ... an atmospheric tale ..."
~ Publishers Weekly

Foreword INDIE
"... 2016 Book of the Year Finalist ..."
~ Foreword INDIE Review

SHELF UNBOUND
"... A 2016 Notable 100 Book ..."
~ Shelf Unbound Magazine

WRITERS' DIGEST
"... Herron is a great storyteller with the ability to make the supernatural seem real..."
~ Writers' Digest 2017 Review ​


---
Buy BLOOD LAKE now, at one of these retailers, to start the adventure today.



Amazon



,













Amazon UK













,

Barnes & NoblePages:

approx. 224​

Language:

English

ISBN-13:

978-1533120182

ASIN:

B01FETUWNQ

Dimensions:

5.5 x 8.5 inches

---