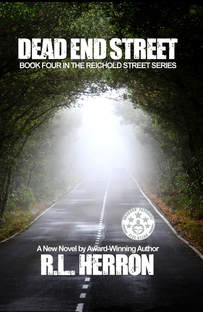 Dead End Street​by R.L. HerronThe time to be most afraid ... is when things start going well.
​
​Paul Barrett is a successful author. So are brothers Randy and Donnie Camron. Along with the rest of the gang from Reichold Street, they think their lives have finally settled down.
In this provocative thriller, new disasters are waiting, determined to find them wherever they go ... and
the past is not always as far behind as they think.
---
---
5-STAR REVIEWS
"... a slow burning, character-driven thriller ... poignant and moving ... highly recommended ...."
~ 2017 Readers' Favorite Reviews

"DEAD END STREET is another winner ...!"
​ ~ TopBookReviewers - July 2017
​

---
---
Buy "DEAD END STREET" now, at one of these retail sites,to start the adventure today.Amazon, ​AmazonUK, Barnes & NoblePages:
Approx. 212
Language:
English
ISBN-13:
978-1546937319​
ASIN:
B071FV1X5J​
Dimensions:
5.5 x 8.5 inches