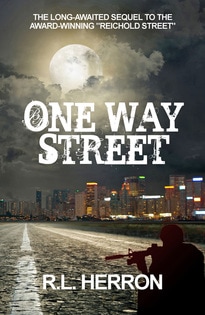 One Way Street

by R.L. Herron
How do you battle your darkest demons?
​
A tense and gritty thriller set during and immediately after the turbulent Vietnam War era, this powerful
Reichold Street
sequel follows
Paul Barrett and several other characters
through the horrors of war, despondency and severe post-traumatic issues on their return; the sweetness of true love, despair at its loss, and the evil of a murderous stalker.
---
---
READERS' FAVORITE 5-STAR REVIEW
"... ranks right up there with some of the very best war-related literature I've read ... a memorable book."
~ Jack Magnus for Readers' Favorite

"... a mesmerizing thriller ..."
~ Maria Beltran for Readers' Favorite

"... literally could not put it down ..."
~ TopBookReviewers.com
​

---
Buy "ONE WAY STREET" now, at one of these retail sites,to start the adventure today.Amazon

,

Barnes & Noble

,

Smashwords, Amazon UK

,

i-TUNESPages:

Approx. 280

Language:

English

ISBN-13:

978-1499279450

ASIN:

B00K1CT38W

Dimensions:

5.5 x 8.5 inches