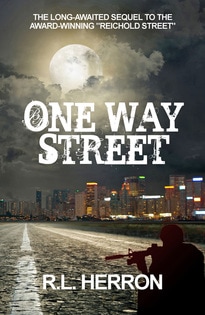 One Way Street

by R.L. Herron
How do you battle your darkest demons?
Paul Barrett and several other Reichold Street characters return in a tense, gritty thriller set during and immediately after the turbulent Vietnam War era. The story follows them through the horrors of war, despondency and severe post-traumatic issues to the sweetness of true love, despair at its loss, and a murderous stalker.
READERS' FAVORITE 5-STAR REVIEW
"... ranks right up there with some of the very best war-related literature I've read ... a memorable book."
~ Jack Magnus for Readers' Favorite
"... a mesmerizing thriller ..."
~ Maria Beltran for Readers' Favorite
"... literally could not put it down ..."
~ TopBookReviewers.com
---
---
---
Buy "ONE WAY STREET" now, at one of these retail sites,to start the adventure today.Amazon

,

Barnes & Noble

,

Smashwords, Amazon UK

,

i-TUNESPages:

Approx. 280

Language:

English

ISBN-13:

978-1499279450

ASIN:

B00K1CT38W

Dimensions:

5.5 x 8.5 inches