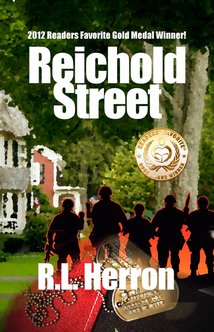 Reichold Streetby R.L. Herron
Just when you think you know it all ....
​
The Patton family arrives on Reichold Street and step-son Albert Parker brings along with him the emotional scars of early parental loss and all the aggressive attitude an abusive stepfather can create.
Imagine if authors
William Golding
(Lord of the Flies)
and Stephen King
(The Body)
sat down to write a coming-of-age adventure set in a working-class American neighborhood in the turbulent 1960's Vietnam era.

​
Reichold Street
is a fast-paced, powerful story about family dysfunction, true friendship, love, loss and the remarkable redemption of war.
---
---
A
2012 READERS' FAVORITE GOLD MEDAL WINNER "5 STARS! ... a master of the art of character development ..."
~ Lorraine Carey for Readers' Favorite
KIRKUS REVIEW
"...the characters are bold, the plot twists surprising, and the point - that we never
fully know a person or his story... heartbreakingly clear... Skillfully written and emotionally charged."
SHELF UNBOUND
"...2018 Indie Book of the Year..."


WRITERS' DIGEST REVIEW
"Readers are in for a treat ... Herron's deft hand in stringing together words and scenes earns him a place on must-read lists​..."
---
---
Buy "REICHOLD STREET" now, at one of these retail sites,to start the adventure today.Amazon

,

Barnes & Noble

,

Smashwords

,

Kobo

,

Amazon UK

or

i-Tunes

.

Pages:

Approx. 280

Language:

English

ISBN-13:

978-1475106237

ASIN:

B007OZGXU0

Dimensions:

5.5 x 8.5 inches