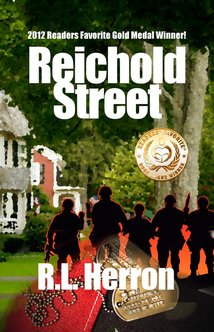 Reichold Streetby R.L. Herron

2012 Readers' Favorite Gold Medal Winner
Imagine J.D. Salinger
(Catcher in the Rye)
, William Golding
(Lord of the Flies)
and Stephen King
(The Body)
sitting down to write a new, coming-of-age story set in a working-class American neighborhood in the turbulent 1960's Vietnam era.
The Patton family arrives on Reichold Street and step-son Albert Parker brings with him the emotional scars of early parental loss and all the aggressive attitude an abusive stepfather can create. It's a fast-paced, powerful story about family dysfunction, friendship, love, loss and the remarkable redemption of war.
REICHOLD STREET
was a
2012 Readers' Favorite Gold Medal Winner.
Kirkus Reviews said
:
"...the characters are bold, the plot twists surprising, and the point - that we never fully know a person or his story... heartbreakingly clear...

Skillfully written and emotionally charged."
"5 STARS! ... a master of the art of character development ..."
~ Lorraine Carey for Readers' Favorite
---
---
---