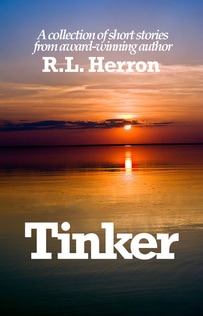 Tinkerby R.L. Herron
Where do you draw the line? And who gets to move it?
Award-winning author R.L. Herron has produced
a superb collection of general fiction short-stories.
A few tales shine a light on places we often choose not to talk about ... societal illnesses like hatred, bigotry, despondency and war.
But even the darkest of them also touches on the bright, soft things in life we need to remember ... the subtle butterfly wings of love and hope that occasionally tickle our minds and hearts.
---
---
"Herron's stories show the value and fragility of life ... beautifully written ... a great collection."
~ Darin Godby for Readers' Favorite

"Ron's stories give voice to voices too often ignored ..."
~ Ed Markowski, Michigan author, poet and raconteur
​

---
Buy "TINKER" now, at one of these retail sites,to start the adventure today.Amazon

,

Barnes & Noble

,

Amazon UKPages:

Approx. 170

Language:

English

ISBN-13:

978-1477548318

ASIN:

B0086KPY9I

Dimensions:

5.5 x 8.5 inches